I was raised Catholic, but I never attended confession. So here I am... I feel like I need to tell someone this.
I'm not sure if I'm proud, ashamed, or just confused. It's a difficult time in a girl's life...
Just today...

after work,

I came home and

I ate a Double Down.
I know,
I know
! I'm not that type of girl. I'm a bread lover, through and through! Since birth, I've been all about toast, leaving the crusts on, even balling up slices of bread and sucking on them! So why would I eat a sandwich with no buns, no bread, no biscuit?
Because it's new? Because it sounded delightful and horrifying all at the same time? Because I like pretending trying weird foods is an "experiment," and that makes me a "scientist"?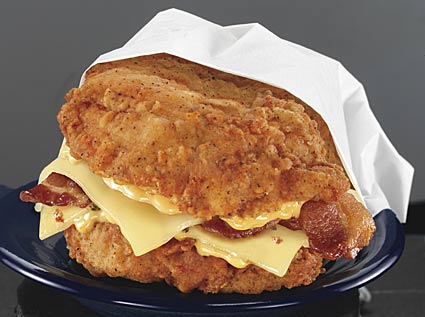 photo source
It's a sandwich from KFC, which should set off the alarm right away. But it's a sandwich without bread. It's a bacon and cheese sandwich with
fried chicken
masquerading as "bread."
And I ate it.

And I'm still alive.

And, while I'm not going to eat one every week,
or even once a month, it's not horrible.

I might even have fond memories of it already.
So now you know. I
am
that type of girl.